As parents, we often ponder our children's mental and emotional wellbeing. We'd like them to always be happy, healthy, and motivated to excel academically. We weigh all the options and reach the final conclusion – after-school activities are a must-have, especially these days.
According to the Afterschool Alliance, 1 in 5 young people are alone when the school day comes to an end. This comes as no surprise, as most working parents have little to no time to come home and attend to their children's after-school needs. 
The Village Method has always pointed out the importance of safe and culturally affirming after-school programs. Without the implementation of relevant after-school activities, a young person may easily become disoriented and uncertain about their academic future. Besides, in worst-case scenarios, they could also get into trouble from having too much time on their hands. Time well spent enables the children of today to become the successful adults of tomorrow.
In this article, we'll look at some of the ways in which after-school activities improve student achievement. We invite you to keep on reading and find out more!
Accessing After-School Activities Impacts Student Achievement
As caring parents and educators, we want to ensure that today's youth is educated enough to break several cycles of poverty, inequity, and systemic racism within our society. 
The Journal of Negro Education revealed that African-American children who are perceived as low-achievers end up being disproportionately enrolled in after-school programs. This should come as no surprise to most of us. 
Such an ongoing issue can only be tackled by enrolling the students in better, more culturally affirming after-school programs. That way, we could help them reach excellence alongside peers and educators who are aware of this undeniable race gap.
There is no point in denying a truth that has been ever-present for centuries. It's time to pick up the pieces and offer our children their shot at a successful life, far away from poverty and discrimination.
The Harlem Children's Zone has made it their main mission to put an end to intergenerational poverty by providing children and their families with some of the best after-school activities designed for young people of color.
Poverty can become a distant memory once we realize that our children are capable of academic excellence. After-school activities and family engagement are here to facilitate this.
Increasing Student Achievement Starts With Family Engagement Activities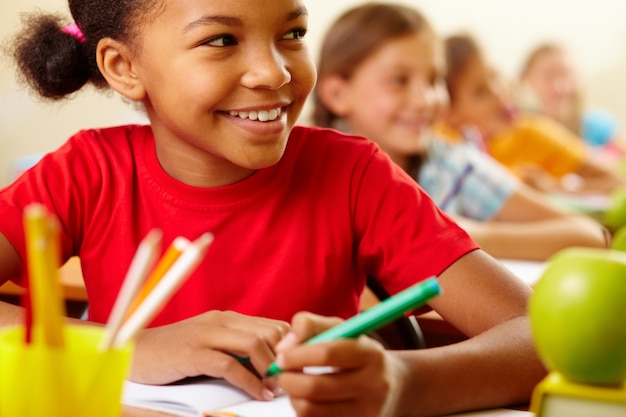 The race gap is not the only factor that slows down our journey towards equity. In fact, it's been proven that the gap between home and school is just as detrimental to the academic achievements of our young ones.
As the Carnegie Corporation of New York revealed, the COVID-19 pandemic has managed to achieve the impossible. More specifically, it has finally bridged the gap between parents and educators, thanks to family engagement activities.
Most families of color have constantly struggled with being seen and heard by the schooling system. To go even deeper, not even the curriculum acknowledges our people's relentless fight for freedom and student achievement.
Instead, we are faced with a willful omission of our real history. Our rich cultural heritage has been swept under the rug for centuries. 
There is only one way to counteract this injustice, and that is to enroll our children in qualitative after-school programs that aim to highlight the importance of family engagement activities.
When the family is involved in the academic journey of the young one, the chances of an increase in student achievement grow exponentially. It's also important to keep in mind that truly great after-school programs will pay close attention to the concept of Social and Emotional Learning.
This educational framework supports our children's so-called soft skills. They will develop healthier attitudes towards education and life. Such an advancement in social and emotional abilities is made possible through valuable and authentic parental engagement. 
Excellence can only be reached once we realize the importance of effective parental engagement. Social and Emotional Learning aims to target the very core of inequity and poverty. All forward-thinking after-school programs should prioritize this incredibly important framework. 
By choosing to enroll our children in after-school programs that encourage family engagement activities and Social and Emotional Learning, we will have the opportunity to watch our children's intellects soar to heights that we didn't think were possible 
This is how we ensure the increase in student achievement – by encouraging our children to always aim higher. After-school activities that are tailored to their exact needs will certainly do the job.
The Conclusion Is…
Our people have always aimed for academic excellence, regardless of the social climate and constant inequity, they've had to face. We're living during unprecedented times, watching society change by the minute. 
There is only one thing we can do in order to truly benefit from the incoming changes, and that is to invest in the academic accomplishments of our children. As we've seen, we can turn this vision into reality by seeking culturally affirming and safe after-school programs. 
It's essential that they elevate the real history of our people, highlight the importance of family engagement activities, and also use the Social and Emotional Learning framework throughout the way.
The Village Method has always emphasized the importance of creating communities with like-minded individuals who are eager to give our incredibly rich cultural heritage its rightful credit. We invite you to explore our cause by visiting our website, volunteering, or simply donating. We believe that your ongoing support will benefit many children, and we invite you to stay tuned for our next blog post